Come to Atlanta for the 7th Grassroots Global Justice Alliance (GGJ) Membership Assembly! / Venga a Atlanta para la Séptima Asamblea de Membresía de GGJ!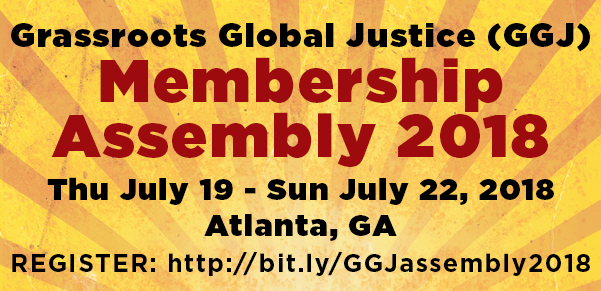 [español abajo]
Membership Assemblies are a crucial component of GGJ's strategy to bring our members together to build relationships, share successes and challenges, do trainings and develop common strategies. The first step is consultation of our membership! If you haven't already heard from a GGJ National Organizer to schedule your consulta, please reach out to Jaron Browne (jaron@ggjalliance.org) or Ana Orozco (ana@ggjalliance.org).
From the consultations, we're writing a summary assessment of our members' feedback and integrating it into a proposal, which we'll ask you to discuss and debate within your organization before coming to the assembly.
We invite GGJ member organizations to bring 2-3 representatives. Registration is limited to GGJ MEMBERS - we will assess capacity for inviting allies at a later date.
We ask all member organizations to make sure they are current with member dues payments to be eligible to vote at the assembly. Expenses for participation in the assembly are covered for all organizations who are current in their dues payments (including flights, lodging, meals, local transportation in Atlanta, interpretation and childcare).
We are excited to hold our 7th Membership Assembly in parallel to the Right to the City / Homes For All Member Assembly this year! We'll be organizing some joint social events, political education sessions, and are strategizing about other ways to collaborate. Let us know if you also are participating in the RTC/HFA Assembly and want to strategize about how to ensure organizational participation in both assemblies.
---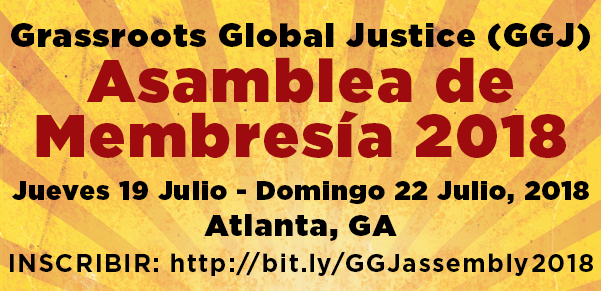 Las Asambleas de Membresía son un componente crucial de la estrategia de GGJ para unir a nuestros miembros para construir relaciones, compartir éxitos y desafíos, hacer entrenamientos y desarrollar estrategias comunes. ¡El primer paso es la consulta de nuestra membresía! Si aún no ha tenido noticias de un Organizador Nacional de GGJ para programar su consulta, comuníquese con Jaron Browne (jaron@ggjalliance.org) o Ana Orozco (ana@ggjalliance.org).
A partir de las consultas, estamos escribiendo una evaluación resumida de los comentarios de nuestros miembros e integrándola en una propuesta, que le pediremos que debata y discuta dentro de su organización antes de asistir a la asamblea.
Invitamos a las organizaciones miembros de GGJ a traer 2-3 representantes. La inscripción se limita a MIEMBROS DE GGJ: evaluaremos la capacidad para invitar a los aliados en una fecha mas adelante.
Pedimos que todas las organizaciones miembros aseguren de estar al día con los pagos de las cuotas de membresía para ser elegible para votar en la asamblea. Cubrimos los gastos para participación en la asamblea para todas las organizaciones que estan al día con sus pagos de las cuotas (incluyendo vuelos, alojamiento, comidas, transporte local en Atlanta, interpretación, y cuidado de niñ@s).
¡Estamos entusiasmados de celebrar nuestra Séptima Asamblea de Membresía en paralelo a la Asamblea de Membresía de la Alianza Derecho a la Ciudad / Hogares para Tod@s este año! Vamos a organizar algunos eventos sociales conjuntos, sesiones de educación política y estrategias sobre otras formas de colaboración. Háganos saber si también participa en la Asamblea de RTC / HFA y desea crear estrategias sobre cómo garantizar la participación de la organización en ambas asambleas.
July 19th, 2018 3:00 PM through July 22nd, 2018 1:00 PM
Georgia Tech Hotel & Conference Center




800 Spring St NW




Atlanta

,

GA

30309




United States
| | |
| --- | --- |
| General Membership Dues | |
| $300k o menos/or less | $ 250.00 |
| $300k - $500k | $ 500.00 |
| $500k - $1,000,000 | $ 750.00 |
| $1,000,000 - $2,000,000 | $ 1000.00 |
| $2,000,000 + | $ 1500.00 |
| Resource Ally Membership Dues | |
| $300k o menos/or less | $ 350.00 |
| $300k - $500k | $ 750.00 |
| $500k - $1,000,000 | $ 1000.00 |
| $1,000,000 - $2,000,000 | $ 1500.00 |
| $2,000,000 + | $ 2000.00 |
| Sliding Scale Amount | $ 1.00 |